Yorkie Personal Checks
Share
Show your love for Yorkies with every check you write! These designer Yorkie checks can be ordered online for the same price or cheaper than what your bank would charge for normal checks.
All check styles are available in your choice of One-Part or Duplicate format.
Return address labels and printed checkbook covers are also available to match most designs.
---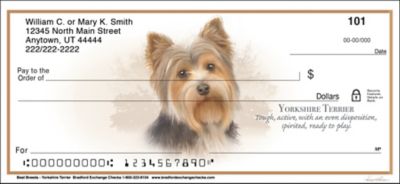 Best Breeds - Yorkshire Terrier Personal Checks
---
Yorkshire Terriers Personal Checks
Four rotating images of these playful pooches in adorable poses, laying in their beds or playing in baskets.
---
Yorkshire Terriers at Play Personal Checks
Yorkies are known to be playful and these Yorkshire Terrier checks are no exception. Whether nose-to-nose with a horse, playing with a ball or splashing at water's edge, these dogs know how to have fun.
---
Yorkies Personal Checks
Four rotating images show off just how cute Yorkies can be when pictured all by themselves - or snuggled up in someone's arm.
---
Yorkies Double Trouble Checks
Four rotating images of Yorkshire Terriers getting into all kinds of trouble together.
---
Yorkie Dog Personal Checks
Acclaimed artist and friend to animals Pollyanna Pickering captures the Yorkie's boundless energy, soulful devotion and loving nature with remarkable sensitivity in four champion Yorkshire Terrier dog check portraits fit for the hero of your heart.
---
Top Dog Breeds Yorkshire Terrier Checks
Dog Photography by Faith A. Uridel.
---
Yorkies in 4 Different Poses
Take these petite pups for a stroll in these personal checks.
---
Yorkie Beware Of Dog Checks
This diva shows off her personality with a spiked color and pink accents all highlighting the obvious sentiment: "Beware of Dog".
---
Yorkie Transformation
These hilarious Yorkshire Terrier is getting transformed into a rockin' hot dog.
---
Yorkshire Terrier Fun Personal Checks
This little doll is just "begging" to become your personal check selection! Four candid shots reflect the personality of such a glamourous dog.
---
Yorkshire Terriers
Rich golden browns, silver grays and black highlight the beautiful coats of these fun-loving Yorkies. Adopt these little guys for your wallet!
---
Yorkshire Terrier Trouble Checks
A whimsical series of four, these will melt your heart and make you laugh. Shoes? Flowers? Miniature dogs? Yes, Please! Get these personal checks to show off that feminine side and your love of the yorkshire terrier.
---
Yorkies in a Stroller
4 images of Yorkie puppies posing in a baby stroller.
---
Adorable Yorkie Pup Checks
4 different photos. Just too cute!
---
Cartoon Yorkies Series 1 Checks
4 colorful images.
---
Cartoon Yorkies Series 2 Checks
4 cute illustrations.
---
Cartoon Yorkies Series 3 Checks
4 images with polka dot backgrounds in soft pastel colors.
---