Siberian Husky Personal Checks
Show your love for Siberian Huskys with every check you write! These designer Siberian Husky checks can be ordered online for the same price or cheaper than what your bank would charge for normal checks.
All check styles are available in your choice of One-Part or Duplicate format.
Return address labels and printed checkbook covers are also available to match most designs.
---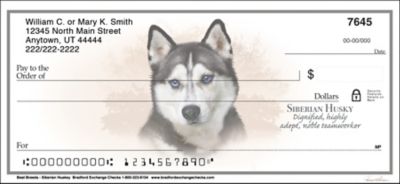 Best Breeds - Siberian Husky Personal Checks
---
Dog Sledding Checks
This two series set of personal bank checks will make any Alaskan Husky fan mush-y. Featuring such dogs pulling sleds through the snowy arctic night, these personal bank checks are perfect for any fan of dog sled racing, or any dog lover in general.
---
Huskie Admiration Personal Checks
This 2 series set of personal bank checks features the mysterious husky, one image gazing into the distance and the other howling at the moon. If dogs really are a man's best friend, then prove it by dedicating your personal bank checks to the one and only husky!
---
Siberian Huskies
These adorable Siberian Husky Personal checks remind us of the Siberian's great strength and loyalty.
---
Siberian Husky Checks
Loved by so many for their intelligent and hard working demeanor, its now time to show off their "fetching" characteristics with these personal checks.
---
Sled Dogs Personal Checks
Sled Dogs are usually known as Huskies and are mixed-breed dogs known for their strength and devotion.
---
Siberian Huskies Checks
4 close-up photos of handsome Huskies.
---
Husky Puppy Personal Checks
4 photos of cute Husky pups.
---