Rottweiler Personal Checks
Share
Show your love for Rottweilers with every check you write! These designer Rottweiler checks can be ordered online for the same price or cheaper than what your bank would charge for normal checks.
All check styles are available in your choice of One-Part or Duplicate format.
Return address labels and printed checkbook covers are also available to match most designs.
---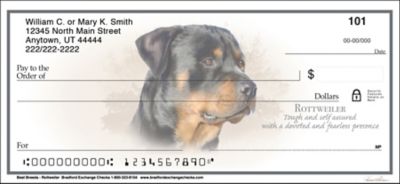 Best Breeds - Rottweiler
---
Top Dog Breeds Rottweiler Checks
Photography by Faith A. Uridel.
---
Rottweiler Personal Checks
Four stunning Rottweiler portraits by acclaimed animal artist Linda Picken, each of these handsome designer personal checks showcases the noble good looks and intelligence of this powerful breed.
---
Rottweiler Personal Checks
Originally a herding dog, these hardy very intelligent animals are certainly at home in the great outdoors. Four pictures of these handsome dogs.
---
Rottweilers Checks
4 different photos.
---
Rottweiler Vigilance Checks
Celebrate your Rottweiler hound with these professionally photographed canine personal checks. Don't ever leave home without him again!
---
Rottweiler Patrol
These beautiful Rottweilers are absolutely stunning. Show off these lovely dogs every time you open your checkbook with these Rottweiler Patrol Personal Checks!
---