Pug Checks
Share
Show your love for Pugs with every check you write! These designer Pug checks can be ordered online for the same price or cheaper than what your bank would charge for normal checks.
All check styles are available in your choice of One-Part or Duplicate format.
Return address labels and printed checkbook covers are also available to match most designs.
---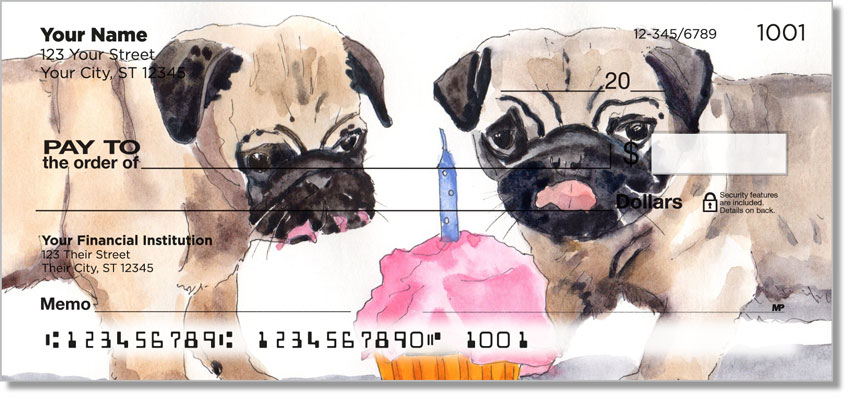 Pug Paintings Checks
4 alternating images. Matching cover available.
---
Top Dog Breeds Pug Checks
---
Cute Pugs in Costumes Checks
---
Sleepy and Playful Pug Checks
Matching address labels available with this style.
---
Cute Pug Dog Personal Checks
---
Faithful Friends Pug Personal Checks
Oh, come on, who could resist that face - those big brown eyes, that cute little button nose, those velvety ears! If you love pugs, then you'll adore these Faithful Friends - Pug dog personal checks.
---
Pugs in the Park
4 playful images.
---
Portraits of Pugs
4 close-up photos.
---
Pug Wallpaper Checks
4 different background colors.
---
Luv Pugs Checks
Cuddly little pug puppies make this an adorable check design for dog lovers!
---
Priceless Pug Checks
Just look at that little face, wrinkly and cute. You'll be everybody's favorite when you carry these puppy checks in your pocketbook
---
Colorful Pugs Personal Checks
4 different background colors.
---
Precious Pugs
Get your treats ready, because these little guys will steal more than your hearts!
---
Cute Pug Puppy Checks
These pug-precious checks are the best way to show the world your best friends irresistible personality!
---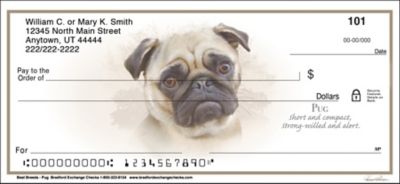 Best Breeds - Pug Personal Checks
---
Pug Mugs
Use Pug Mug Personal Checks which are available in single and duplicate check format. Matching address labels and a coordinating checkbook cover are also available.
---