Pomeranian Checks
Share
Show your love for Pomeranians with every check you write! These designer Pomeranian checks can be ordered online for the same price or cheaper than what your bank would charge for normal checks.
All check styles are available in your choice of One-Part or Duplicate format.
Return address labels and printed checkbook covers are also available to match most designs.
---
Top Dog Breeds Pomeranian Checks
Photography by Faith A. Uridel.
---
Pomeranian Personal Checks
Small, compact and sturdy these Poms are full of love for their masters/mistresses. Four unique photos of these cute, lovable dogs doing what they do while having smiles of their faces.
---
Pomeranian Dog Personal Checks
Acclaimed wildlife artist and friend to animals Linda Picken captures the Pomeranian's lively spirit, soulful devotion and loving nature with remarkable sensitivity in four champion Pomeranian dog check portraits fit for the hero of your heart.
---
Pomeranian Puppies Personal Checks
4 close-up photos of cute little Pom Pups.
---
Playful Pomeranians
Four different images of a pom puppy yawning and being playful make this series a must have for any puppy lover.
---
Pom Illustration Series Checks
4 cute images.
---
Pomeranian Pop Art Checks
4 colorful images.
---
Pomeranian Spitz Personal Checks
There isn't anything much cuter than a pomeranian with its dark eyes and black little nose looking right at you. Share these little guys every time you open your checkbook with Pomeranian Spitz Personal Checks!
---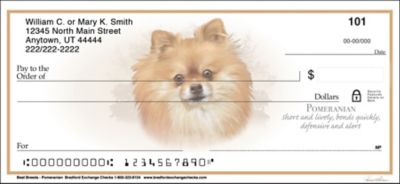 Best Breeds - Pomeranian Personal Checks
---
Smart Pomeranian Pooch Personal Checks
These little guys are so fun loving and cute and are sure to bring a smile to everybody they come across.
---