Mastiff Personal Checks
Show your love for Mastiffs with every check you write! These designer Mastiff checks can be ordered online for the same price or cheaper than what your bank would charge for normal checks.
All check styles are available in your choice of One-Part or Duplicate format.
Return address labels and printed checkbook covers are also available to match most designs.
---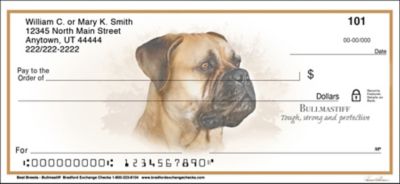 Best Breeds - Bullmastiff Personal Checks
---
Mastiff Dog Personal Checks
Majestic because of their size, these wonderful pets are calm, quiet and wonderful around children. MFour beautiful pictures of these loyal and loving dogs.
---
Bullmastiff Checks
4 different photos including 3 adult dogs and one puppy.
---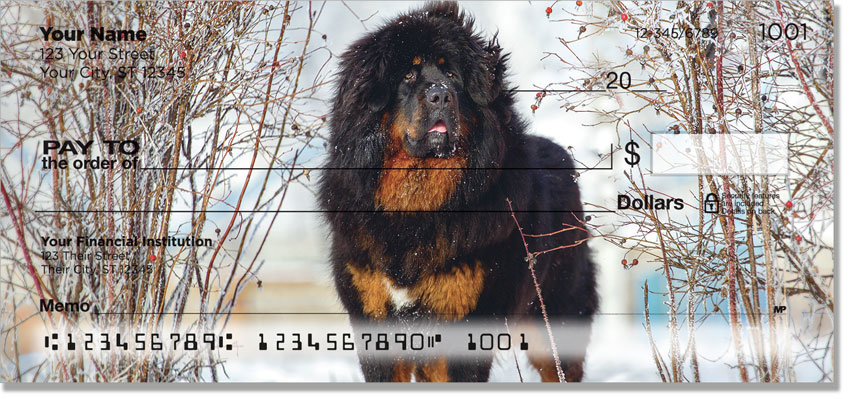 Mastiff Silhouette Checks
4 alternating images.
---
Mastiffs Personal Checks
Celebrate your loved one waiting faithfully for your return with these adorable mastiff dog checks. Keep him right in your checkbook and never leave home without him!
---
Bull Mastiffs Checks
The Bull Mastiff is a gentle giant, and these beautiful Mastiff checks are a tribute to this wonder breed. Each of the images on this 4 check series will remind you why they call them Man's Best Friend!
---
French Mastiffs Checks
These gentle giants are so special and these images really capture their beauty and unique and soothing personality. From their wrinkled face to their loving eyes - these designs are sure to bring a smile to everyone they meet.
---
Mastiff Portrait
Close-up photo.
---
Massive Mastiff Checks
The charcoal background compliments the coloring and attitude of the powerful and protective dog to make it seem larger than life!
---