Maltese Personal Checks
Share
Show your love for Malteses with every check you write! These designer Maltese checks can be ordered online for the same price or cheaper than what your bank would charge for normal checks.
All check styles are available in your choice of One-Part or Duplicate format.
Return address labels and printed checkbook covers are also available to match most designs.
---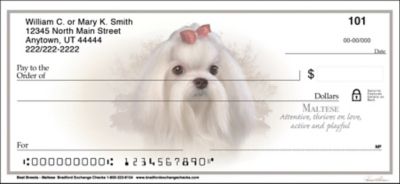 Best Breeds - Maltese Personal Checks
---
Maltese All Gussied Up Checks
If there is usually a sweet white pup curled up on your lap, then this check series is for you! A portrait of the famous Maltese breed is beautifully displayed in this watercolor design. Sweeping strokes of pink and white create a dreamy scene of puppy love, with a little blue bow placed on the head of the Maltese as the perfect accent.
---
Loveable Maltese
These adorable little dogs are such sweet companions. They are so sweet and loyal and make great pets. These images capture the beauty and sweet personality of these loveable little dogs.
---
Maltese Madness
What could be cuter than these little furry puppies? The tiny Maltese will melt your heart every time! The comforting image of a beloved dog in the creamy pink background will make you smile and put you at ease through every glance.
---
Maltese Personal Checks
4 close-up photos of these little cutie-pies.
---
Maltese Dog Checks
---
---
Cartoon Maltese Series 2 Checks
4 colorful drawings.
---
Cartoon Maltese Series 1 Checks
4 cute drawings.
---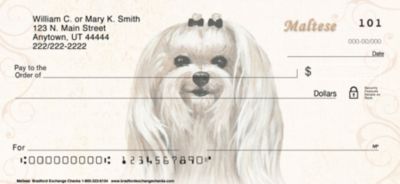 Maltese Portraits Personal Checks
From ancient Roman governors to medieval ladies to modern enthusiasts, the Maltese has charmed dog lovers throughout history. Of course, with one look at these "Maltese" personal check designs it's easy to see why! Available exclusively from Bradford Exchange Checks®, these Linda Picken "Maltese" art checks showcase the beautiful Maltese in wonderful detail - Ms. Picken's acclaimed talent for animal portraiture perfectly captures the legendary white Maltese coat, their sparkling dark eyes and button noses, and their uncanny ability to "smile" with pure innocent joy. In fact, from the moment you start carrying these "Maltese" dog breed checks you'll discover they're as gorgeous as they are practical, and sure to attract lots of attention - just as any beloved Maltese should!
---