Golden Retriever Personal Checks
Share
Show your love for Golden Retrievers with every check you write! These designer Golden Retriever checks can be ordered online for the same price or cheaper than what your bank would charge for normal checks.
All check styles are available in your choice of One-Part or Duplicate format.
Return address labels and printed checkbook covers are also available to match most designs.
---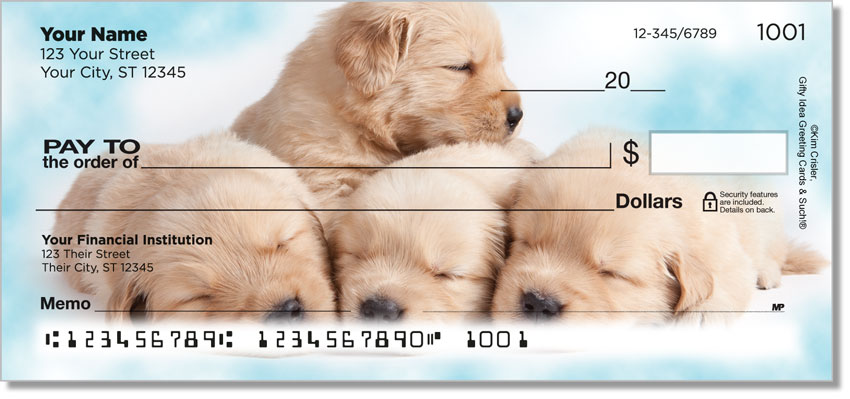 Sleepy Golden Pups Personal Checks
4 alternating images of adorable Golden Retriever puppies!
---
Beach Buddies
A young family, a serene beach, a friendly golden retriever and a picturesque sunset.
---
Golden Retriever Puppies
This 4 series set of personal bank checks features an adorable golden retriever puppy doing what puppies do!
---
Top Dog Breeds Golden Retriever Checks
Photography by Faith A. Uridel.
---
Golden Retriever Personal Checks
Playing fetch and splashing in the water are what these pets are all about. Four rotating pictures of these dogs just being themselves.
---
Golden Retriever Dog Personal Checks
Acclaimed wildlife artist and friend to animals Linda Picken captures the Golden Retriever's boundless enthusiasm, soulful devotion and loving nature with remarkable sensitivity in four champion Golden Retriever dog check portraits fit for the hero of your heart.
---
Golden Retriever At Play Checks
4 different photos of a goldie frolicking in the park on a sunny day.
---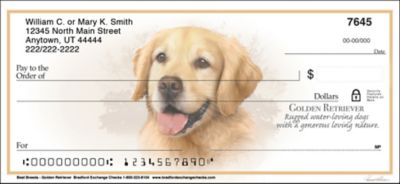 Best Breeds - Golden Retriever Personal Checks
---