Bulldog Personal Checks
Share
Show your love for Bulldogs with every check you write! These designer Bulldog checks can be ordered online for the same price or cheaper than what your bank would charge for normal checks.
All check styles are available in your choice of One-Part or Duplicate format.
Return address labels and printed checkbook covers are also available to match most designs.
---
Best Breeds - Bulldog Personal Checks
---
Fun with Bulldogs Checks
Four rotating images of these stocky dogs in some of the funniest poses we could find, be it carrying sticks bigger then themselves or giving you a puzzled look with his cute little face.
---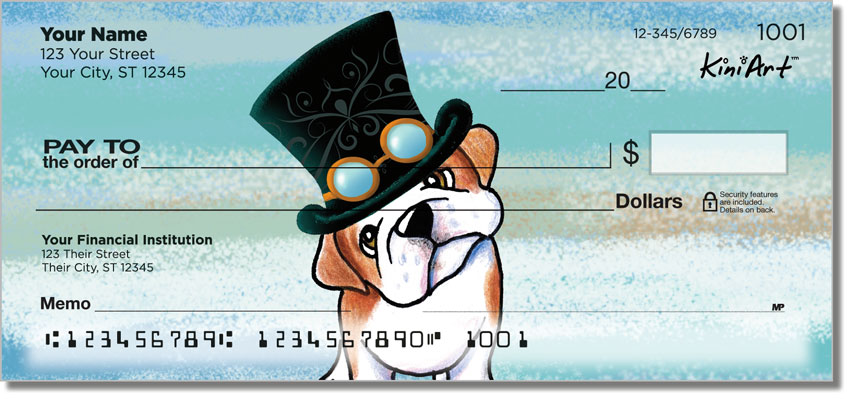 English Bulldog Art Personal Checks
4 colorful cartoon bulldog images by KiniArt.
---
English Bulldogs Romping Checks
Four pictures show Bulldogs romping and having fun on these Bulldog Personal Bank Checks.
---
Cute English Bulldog Checks
A sourpuss expression and cute in their own way, these English Bulldog Cuties Personal Checks express the character of these fine animals.
---
Bulldog Rippin N Roarin 1 Checks
Don't take flack with these masculine designed, professionally staged checks.
---
Bulldogs
A perfect pooch that's pocket sized, this little guy is always freshly bathed and never chews up socks!
---
Bulldogs With Marine Attitude No 2
These tough hounds are the proud mascot of the US Marine Corps! Spread some national pride and pay homage to our armed forces with these thoughtful quotes: "The Few, The Proud", "Tell that to a Marine", "Band of Brothers", "Once a Marine, Always a Marine".
---
Bulldogs With Marine Attitude Checks
These masculine, military bulldog personal checks are colorful, thought-provoking, and tough at the same time! Four fun quotes.
---
Bulldog Bathtime
Move aside rubber ducky, you're no longer number one! The Bulldog is now our most adorable bath-time pal! These four precious bath-time images will keep you giggling all day long!
---
Bulldog Don't Mess With Me Checks
Show 'em who's boss!
---
English Bulldog Puppy Patrol Checks
These little puppies are so sweet and innocent and their alluring eyes stare up and you just can't possibly say no to that loving face.
---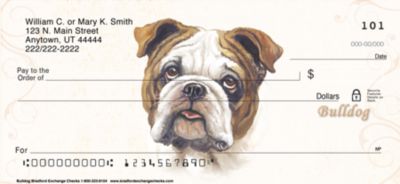 Linda Picken Bulldog Portrait Checks
these Linda Picken Bulldog art checks are a proud testament to this affable breed. Ms. Picken's heartwarming portraits of bulldogs perfectly capture their heart-melting expressions, including every lovable wrinkle and fold! What a treat - now every Bulldog dog breed check you write will come complete with a delightful reminder of your faithful bulldog pal!
---
Bulldog Pop Art Checks
4 colorful images.
---
The Pit Boss
This hilarious two series set of personal bank checks features a bulldog who is ready to put all his chips in the middle of the table in hopes that you'll pick these bank checks! He must be feeling lucky!
---
Tough Bulldogs Personal Checks
Fun drawings with vivid backdrops that are perfectly contemporary and one of a kind! Celebrate military pride with these angry bulldogs!
---