Dalmatian Checks
Share
Show your love for Dalmatians with every check you write! These designer Dalmatian checks can be ordered online for the same price or cheaper than what your bank would charge for normal checks.
All check styles are available in your choice of One-Part or Duplicate format.
Return address labels and printed checkbook covers are also available to match most designs.
---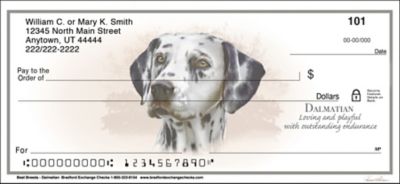 Best Breeds - Dalmatian Personal Checks
---
Dalmatians Dog Checks
Known as the fire engine dog, these spotted beauties are strong and loyal. Four pictures of their alert eyes, making them appear to fit the part of a watchdog.
---
Dalmatians Checks
Capture these fun loving and captivating Dalmatians as they stop and smell the flowers or play ball.
---
Dandy Dalmatians
If dogs are a man's best friend, then it's time to make friends with these bank checks!
---
Dalmatian Checks
4 close-up photos of these beautiful dogs.
---
Darling Dalmatian Checks
4 colorful images.
---