Dachshund Checks
Share
Show your love for Dachshunds with every check you write! These designer Dachshund checks can be ordered online for the same price or cheaper than what your bank would charge for normal checks.
All check styles are available in your choice of One-Part or Duplicate format.
Return address labels and printed checkbook covers are also available to match most designs.
---
Best Breeds - Dachshund Personal Checks
---
Top Dog Breeds Dachshund Checks
Photography by Faith A. Uridel.
---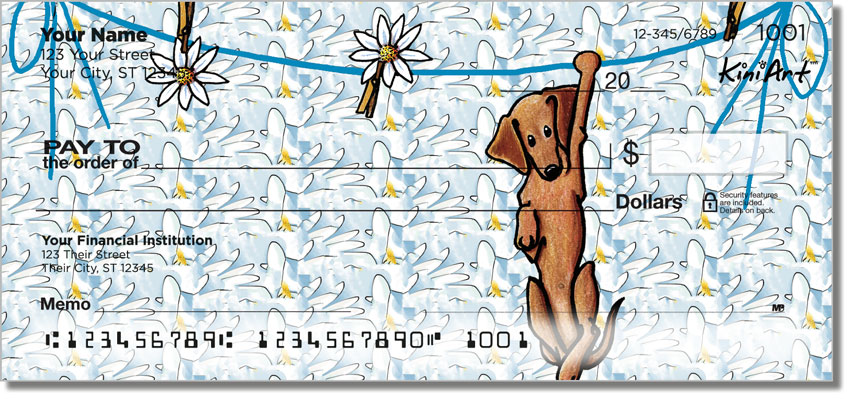 Dachshund Cartoon Series Personal Checks
4 alternating cartoon dog images by KiniArt.
---
Faithful Friends Dachshund Personal Checks
Share your love of this special breed with these Faithful Friends Dachshund dog personal checks.
---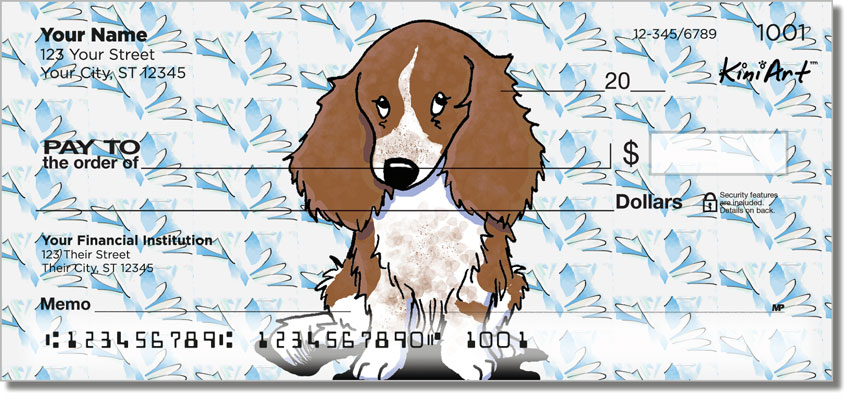 Longhaired Dachshund Checks
4 alternating images by KiniArt.
---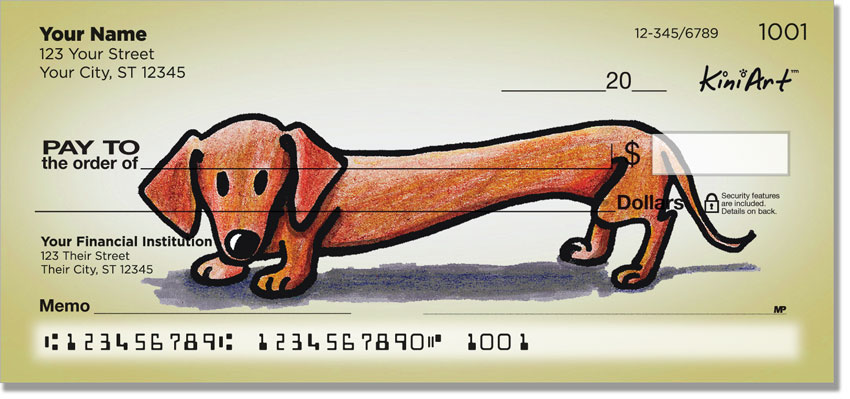 Dachshund Doxie Series Cartoon Checks
You'll love these adorable pups designed by Kim Niles of KiniArt on our personal checks! 4 different images.
---
Darling Dachshunds Personal Checks
Four pictures of these cute dogs wearing an assortment of coats.
---
Dachshund Puppies Checks
Bring home these cutie hound dogs today with this great puppy personal check series! What an adorable photograph of these precious pups! These Dachshunds will bring a smile to your face everyday!
---
Dachshunds in 4 Different Poses
These teeny little weenies are excited to be a part of your daily life! Adorable Dachshund puppies professionally photographed for your daily viewing pleasure.
---
Dachshund Country Personal Checks
How can you pick just one? Put the entire litter of these little darlings in your checkbook!
---
Dachshund Darlings
Every dachshund owner will recognize these adorable expressions! Let this little cutie move into your wallet and totally adore you everytime you write a check!
---
Dachshund Daze
Don't be fooled by their small size... these dachshunds are 100% dog and can't wait to be your best friend.
---
Darling Dachshunds Personal Checks
Gazing at you with devotion, these adorable dachshunds personal checks are just waiting to be invited into your wallet!
---
Longhaired Dachshunds
If you love these adorable and sweet dogs then make sure to share them with every check you write!
---
Smart Dachshunds
These very studious dachshunds are sure to get a good grade in class and perhaps a laugh or two.
---
Smarter Dachshunds
These adorable dachshunds are busy studying and are sure to bring a smile and laugh every time you open your checkbook!
---
Dachshund Portrait
Close-up photo.
---
Dachshund Puppy Checks
2 cute puppies.
---
Dachshund Close-Ups Checks
Those adorable wiener dogs always win your heart. 4 different photos.
---
Wiener Dog Checks
4 colorful images.
---