Chihuahua Personal Checks
Share
Show your love for Chihuahuas with every check you write! These designer Chihuahua checks can be ordered online for the same price or cheaper than what your bank would charge for normal checks.
All check styles are available in your choice of One-Part or Duplicate format.
Return address labels and printed checkbook covers are also available to match most designs.
---
Top Dog Breeds Chihuahua Checks
Photography by Faith A. Uridel.
---
Chihuahuas
Yo quiero these cute checks! No one can resist the cuddliness of these dogs in this absolutely adorable check design. If you're a chihuahua lover, then these checks are for you!
---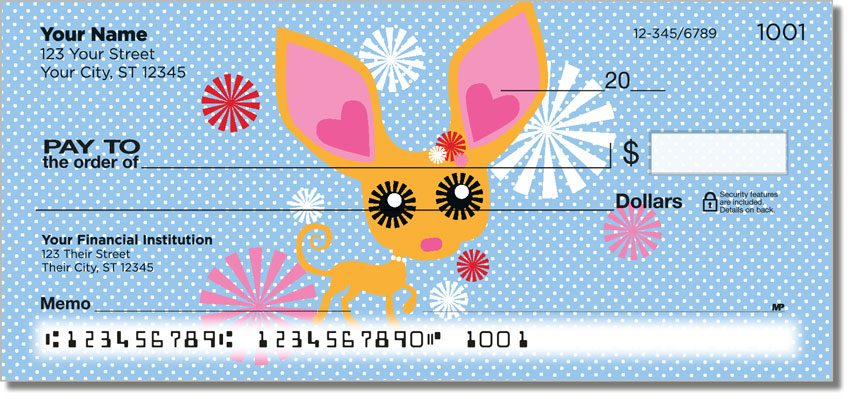 Izzy Personal Checks
Super chic personal checks from artist and professional designer Stacy Peterson. 4 alternating images.
---
Chihuahua Field Day
Whether on a dock, in tall grass, or in a golden field this little breed is just too cute for words, and a perfect choice for any Chihuahua lover!
---
Chihuahua Mania Personal Checks
You won't be barkin' up the wrong tree with these bank checks, that's for sure!
---
Chihuahua Princess
This sweet little princess is a Chihuahua that is looking for a proper "Diva Mamma" to adopt her! All she needs is a nice checkbook to live in and for you to give her plenty of attention. How can you look into those big brown eyes and say no?
---
---
Faithful Friends Chihuahua Personal Checks
If you love the huge personalities and feisty flair of these mighty minis, then treat yourself to these Faithful Friends Chihuahua dog personal checks.
---
Chihuahuas Are Charming Checks
4 rotating pictures of different versions of this apartment sized canine.
---
Cartoon Chihuahuas Series 1 Checks
4 cute drawings.
---
Cartoon Chihuahuas Series 2 Checks
4 colorful drawings.
---
Viva Chihuahua Checks
Click to see a fun-loving illustration of your favorite little pups! These dog checks rule!
---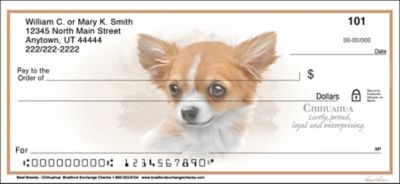 Best Breeds - Chihuahua Personal Checks
---