Boxer Personal Checks
Share
Show your love for Boxers with every check you write! These designer Boxer checks can be ordered online for the same price or cheaper than what your bank would charge for normal checks.
All check styles are available in your choice of One-Part or Duplicate format.
Return address labels and printed checkbook covers are also available to match most designs.
---
Boxer Puppies Personal Checks
4 images of cute Boxer pups.
---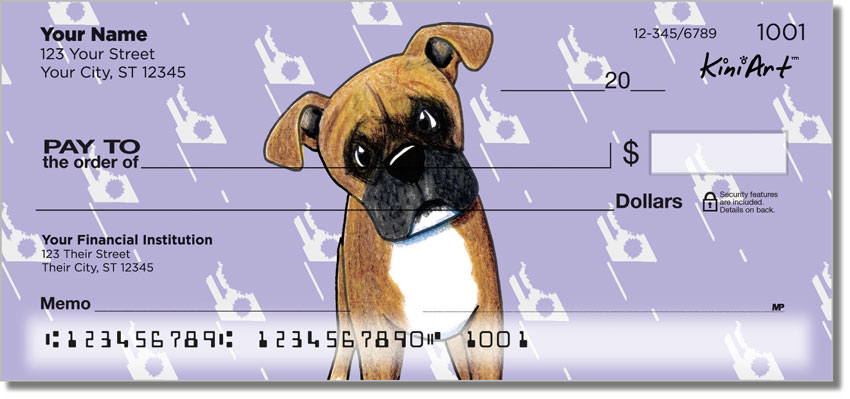 Boxer Cartoon Art Checks
4 colorful images by KiniArt.
---
Boxer Checks
4 pictures of these adorable dogs.
---
Top Dog Breeds Boxer Checks
Photography by Faith A. Uridel.
---
Faithful Friends Boxer Personal Checks
If you're one of those people who knows a Boxer dog is usually a lover - not a fighter - then you'll really enjoy showing off these Faithful Friends Persoanl Check.Singles.
---
Boxer Dog Personal Checks
Acclaimed artist and friend to animals Pollyanna Pickering captures the Boxer's boundless energy, protective devotion and loving nature with remarkable sensitivity in four champion Boxer dog check portraits fit for the hero of your heart.
---
Boxer Bathtime
This adorable little boxer captures the hearts of everyone that sees this check series! This is one of our most popular dog checks, and a perfect option for any Boxer owner to consider!
---
Boxer Daze Personal Checks
Find out just how playful and curious these Boxer pups can be just by opening up your wallet! These four lovable images will make you drool for more!
---
Boxer Fun
This adorable 4 scene set of personal bank checks features a cuddly boxer lounging around, chewing a bone, and looking cool in a flashy pair of puppy shades. How could you resist?
---
Boxer Dog Silhouettes Checks
4 different patterns.
---
Boxer Pup Checks
Four different poses.
---
Boxer Snapshots Personal Checks
These loyal and smart dogs make great pets and companions and these designs really capture their captivating personality. Show your Boxer side with these fun loving personal bank checks!
---
Teaching An Old Boxer Dog Checks
Share these precious, thought provoking and conversational Teaching An Old Dog Personal Checks each time you write out a bank check!
---