Bichon Frise Personal Checks
Share
Show your love for Bichon Frises with every check you write! These designer Bichon Frise checks can be ordered online for the same price or cheaper than what your bank would charge for normal checks.
All check styles are available in your choice of One-Part or Duplicate format.
Return address labels and printed checkbook covers are also available to match most designs.
---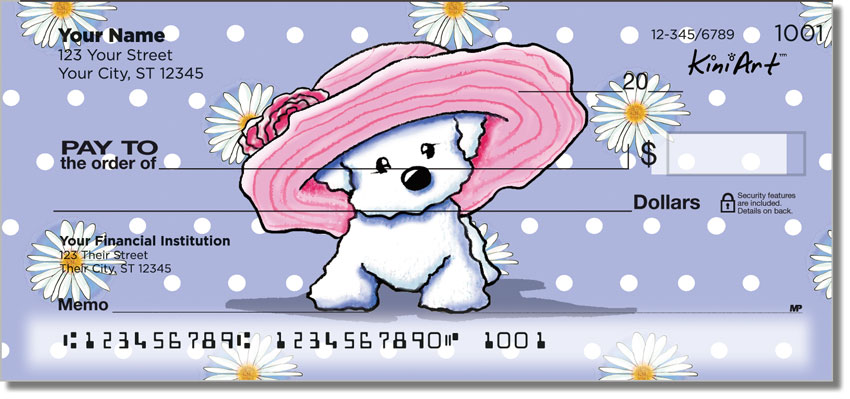 Bichon Girls Checks
4 colorful images.
---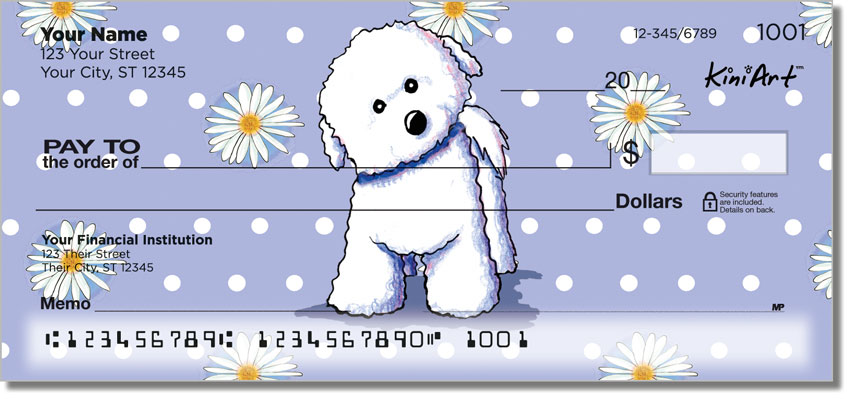 Bichon Frise Cartoon Checks
4 cartoon bichon drawings by KiniArt.
---
Faithful Friends Bichon Frise Personal Checks
Each of these darling dog art bank checks features a melt-your-heart portrait of an adorable Bichon - who wouldn't fall in love with those big brown eyes, that button nose and all that silky white fur?
---
Bichon Rescue Checks
The Bichon Frise Rescue network is dedicated to providing full veterinary care, in-home rehabilitation, responsible placement, follow-up care and public education to prevent cruelty to bichons and heighten awareness of the breed.
---
Adorable Bichons
---
Cute Bichon Checks
4 close-up photos of these cute little dogs and their puppies.
---
Adorable Bichons
Fluffy, white and sitting pretty, the Bichon pooch displayed in this series is nothing but impressive. Set against a fading background of bright pink, this design displays the pure white coat of the Bichon perfectly.
---
Bichon Checks
These dogs have such a wonderful personality and these designs really capture their inquisitive and fun loving nature. Put this cute little fur-ball on every check you write out!
---
Bichon Puppies
These sweet little puppies are so absolutely loveable and really show how sweet and alert these little guys are. If you love dogs, puppies and bichons, these designs will make you and everyone they come across want to reach out and touch one!
---
Best Breeds - Bichon Frise Personal Checks
---